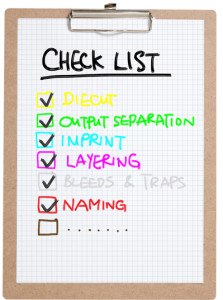 If you have created, or received wide multiple files from internal or external sources, Craftses Studio can help you to reviews, adjusts and processes new and rework files. Verifies color is correct for the intended use is one of the studio main goals.
Embellishments like finishing die cuts, printed components and file formats are inspected, measured and verified prior to their release downstream to ensure they meet current production standards and specifications.
The studio can also suggest, verify Naming Conventions for you. In other words, if multiple files from multiple sources are present, adjust color so all elements "match".